美國 Clyde-Industries 吹灰器
Feed Tube
產品描述
Clyde Bergemann Armor Glide feedtubes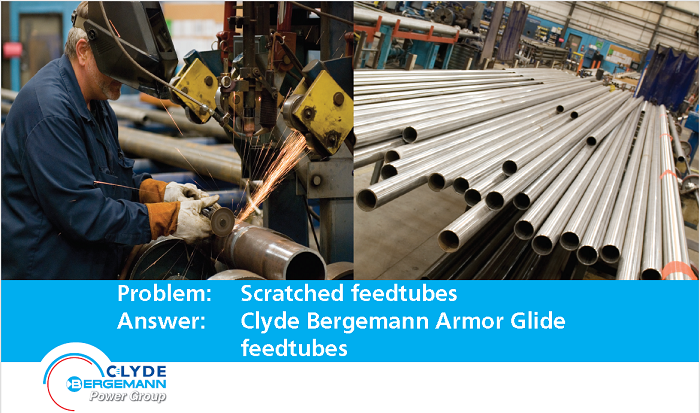 Clyde Bergemann is always questioning how things have been done in the past, and exploring approaches that often reinvent entire processes to lengthen the lifespan of boiler parts. The patented Armor Glide feedtube construction is just one small example of this fresh thinking – able to far outlast the chrome-plated tubes of the past.
Previous recovery service sootblowers and long travel utility sootblowers used chrome plated feedtubes, with the plating limited to a thickness of.001 to .002. The result was that thermal expansion differences between the hard chrome and base feedtube material caused cracking or peeling of the chrome.
However, the Armor Glide process is thermally bonded to the base feedtube and will not peel or flake off. It's unique design boasts a surface treatment harder, thicker and more durable than conventional chrome plating processes offered in the past. Therefore, the Armor Glide feed offers longer packing life resulting in longer sootblower run times, steam savings, reduced maintenance cost and improved boiler cleaning. Changing just one part creates a system-wide improvement whose results can easily be recognized.
特點:
1.耐刮
2.硬度高,更長的壽命
3.延長Packing壽命